WRITING

For the screen adaptation, Spielberg wanted to stay with the novel's basic plot, but discarded many of Benchley's subplots. He declared that his favorite part of the book was the shark hunt on the last 120 pages, and told Zanuck when he accepted the job, "I'd like to do the picture if I could change the first two acts and base the first two acts on original screenplay material, and then be very true to the book for the last third." When the producers purchased the rights to his novel, they promised Benchley that he could write the first draft of the screenplay. The intent was to make sure a script could be done despite an impending threat of a Writer's Guild strike, given Benchley was not unionized. Overall, he wrote three drafts before the script was turned over to other writers; delivering his final version to Spielberg, he declared, "I'm written out on this, and that's the best I can do." Benchley later described his contribution to the finished film as "the storyline and the ocean stuff – basically, the mechanics", given he "didn't know how to put the character texture into a screenplay." One of his changes was to remove the novel's adulterous affair between Ellen Brody and Matt Hooper, at the suggestion of Spielberg, who feared it would compromise the camaraderie between the men on the Orca. During the film's production, Benchley agreed to return and play a small onscreen role as a reporter.

Spielberg, who felt that the characters in Benchley's script were still unlikable, invited the young screenwriter John Byrum to do a rewrite, but he declined the offer. Columbo creators William Link and Richard Levinson also declined Spielberg's invitation. Tony and Pulitzer Prize-winning playwright Howard Sackler was in Los Angeles when the filmmakers began looking for another writer and offered to do an uncredited rewrite; since the producers and Spielberg were unhappy with Benchley's drafts, they quickly agreed. At the suggestion of Spielberg, Brody's characterization made him afraid of water, "coming from an urban jungle to find something more terrifying off this placid island near Massachusetts."

Spielberg wanted "some levity" in Jaws, humor that would avoid making it "a dark sea hunt", so he turned to his friend Carl Gottlieb, a comedy writer-actor then working on the sitcom The Odd Couple. Spielberg sent Gottlieb a script, asking what the writer would change and if there was a role he would be interested in performing. Gottlieb sent Spielberg three pages of notes, and picked the part of Meadows, the politically connected editor of the local paper. He passed the audition one week before Spielberg took him to meet the producers regarding a writing job.

While the deal was initially for a "one-week dialogue polish", Gottlieb eventually became the primary screenwriter, rewriting the entire script during a nine-week period of principal photography. The script for each scene was typically finished the night before it was shot, after Gottlieb had dinner with Spielberg and members of the cast and crew to decide what would go into the film. Many pieces of dialogue originated from the actors' improvisations during these meals; a few were created on set. John Milius contributed dialogue polishes, and Sugarland Express writers Matthew Robbins and Hal Barwood also made uncredited contributions. Spielberg has claimed that he prepared his own draft, although it is unclear to what degree the other screenwriters drew on his material. One specific alteration he called for in the story was to change the cause of the shark's death from extensive wounds to a scuba tank explosion, as he felt audiences would respond better to a "big rousing ending". The director estimated the final script had a total of 27 scenes that were not in the book.

Benchley had written Jaws after reading about sport fisherman Frank Mundus's capture of an enormous shark in 1964. According to Gottlieb, Quint was loosely based on Mundus, whose book Sportfishing for Sharks he read for research. Sackler came up with the backstory of Quint as a survivor of the World War II USS Indianapolis disaster. The question of who deserves the most credit for writing Quint's monologue about the Indianapolis has caused substantial controversy. Spielberg described it as a collaboration between Sackler, Milius, and actor Robert Shaw, who was also a playwright. According to the director, Milius turned Sackler's "three-quarters of a page" speech into a monologue, and that was then rewritten by Shaw. Gottlieb gives primary credit to Shaw, downplaying Milius's contribution.

CASTING

Though Spielberg complied with a request from Zanuck and Brown to cast known actors, he wanted to avoid hiring any big stars. He felt that "somewhat anonymous" performers would help the audience "believe this was happening to people like you and me", whereas "stars bring a lot of memories along with them, and those memories can sometimes ... corrupt the story." The director added that in his plans "the superstar was gonna be the shark". The first actors cast were Lorraine Gary, the wife of then-president of Universal Sidney Sheinberg, as Ellen Brody, and Murray Hamilton as the mayor of Amity Island. Stuntwoman-turned-actress Susan Backlinie was cast as Chrissie (the first victim) as she knew how to swim and was willing to perform nude. Most minor roles were played by residents of Martha's Vineyard, where the film was shot. One example was Deputy Hendricks, played by future television producer Jeffrey Kramer. Lee Fierro plays Mrs. Kintner, the mother of the shark's second victim Alex Kintner (played by Jeffrey Voorhees).

The role of Brody was offered to Robert Duvall, but the actor was interested only in portraying Quint. Charlton Heston expressed a desire for the role, but Spielberg felt that Heston would bring a screen persona too grand for the part of a police chief of a modest community. Roy Scheider became interested in the project after overhearing Spielberg at a party talk with a screenwriter about having the shark jump up onto a boat. Spielberg was initially apprehensive about hiring Scheider, fearing he would portray a "tough guy", similar to his role in The French Connection.

Nine days before the start of production, neither Quint nor Hooper had been cast. The role of Quint was originally offered to actors Lee Marvin and Sterling Hayden, both of whom passed. Zanuck and Brown had just finished working with Robert Shaw on The Sting, and suggested him to Spielberg. Shaw was reluctant to take the role since he did not like the book, but decided to accept at the urging of both his wife, actress Mary Ure, and his secretary — "The last time they were that enthusiastic was From Russia with Love. And they were right." Shaw based his performance on fellow cast member Craig Kingsbury, a local fisherman, farmer, and legendary eccentric, who was playing fisherman Ben Gardner. Spielberg described Kingsbury as "the purest version of who, in my mind, Quint was", and some of his offscreen utterances were incorporated into the script as lines of Gardner and Quint. Another source for some of Quint's dialogue and mannerisms, especially in the third act at sea, was Vineyard mechanic and boat-owner Lynn Murphy.

For the role of Hooper, Spielberg initially wanted Jon Voight. Timothy Bottoms, Jan-Michael Vincent, Kevin Kline, Joel Grey, and Jeff Bridges were also considered for the part. Spielberg's friend George Lucas suggested Richard Dreyfuss, whom he had directed in American Graffiti. The actor initially passed, but changed his decision after he attended a pre-release screening of The Apprenticeship of Duddy Kravitz, which he had just completed. Disappointed in his performance and fearing that no one would want to hire him once Kravitz was released, he immediately called Spielberg and accepted the role in Jaws. Because the film the director envisioned was so dissimilar to Benchley's novel, Spielberg asked Dreyfuss not to read it. As a result of the casting, Hooper was rewritten to better suit the actor, as well as to be more representative of Spielberg, who came to view Dreyfuss as his "alter ego"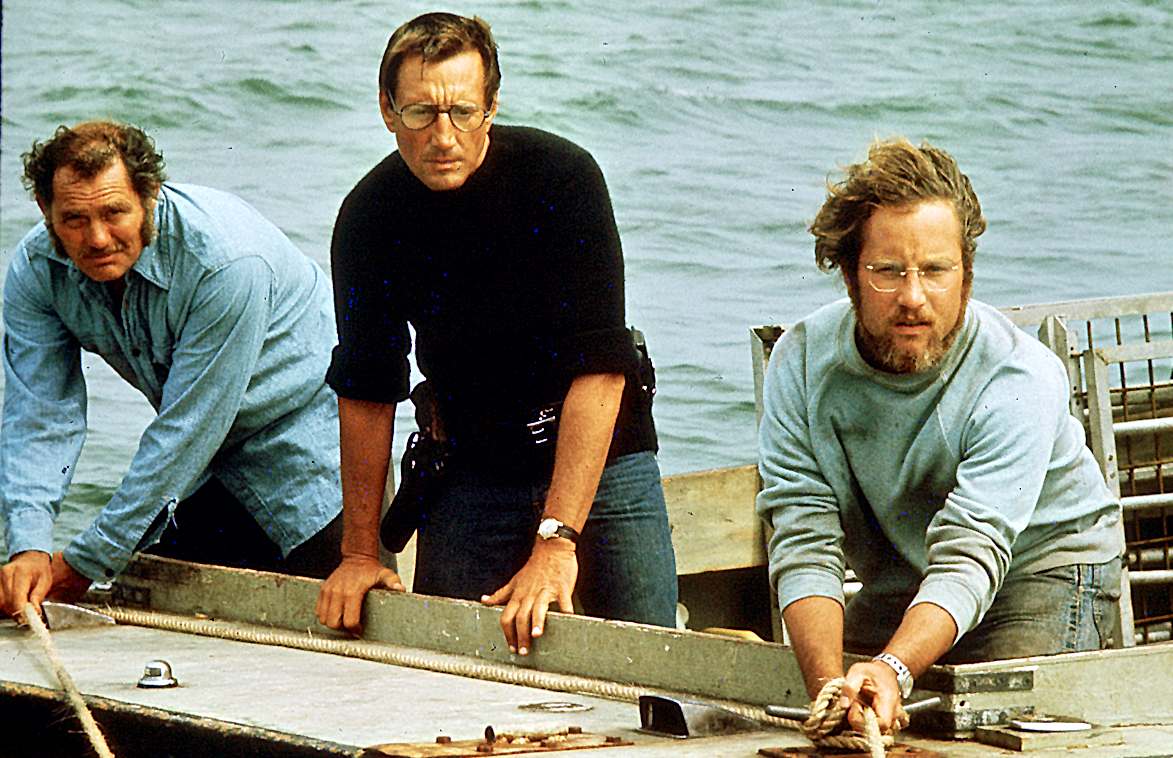 Steven Allan Spielberg (born December 18, 1946) is an American film director, producer, and screenwriter. He began his career in the New Hollywood era, and is one of the most commercially successful directors in history. Spielberg is the recipient of various accolades, including two Academy Awards for Best Director, a Kennedy Center honor, and a Cecil B. DeMille Award.

Spielberg was born in Cincinnati, Ohio, and grew up in Phoenix, Arizona. He later moved to California and studied film in college. After directing television episodes and several minor films for Universal Studios, he became a household name for directing 1975's summer blockbuster Jaws. He then directed box office hits Close Encounters of the Third Kind (1977), E.T. the Extra-Terrestrial (1982), and the adventure films in the Indiana Jones series. Spielberg later explored drama in The Color Purple (1985) and Empire of the Sun (1987).

After a brief hiatus, he directed back to back box office hits with the acclaimed science fiction action film Jurassic Park and the holocaust drama Schindler's List (both 1993). In 1998, he directed the World War II epic Saving Private Ryan, which was both a critical and commercial success. Spielberg continued in the 2000s with science fiction, including A.I. Artificial Intelligence (2001), Minority Report (2002) and War of the Worlds (2005). He has since directed several fantasy films including The Adventures of Tintin (2011), and Ready Player One (2018), and the historical dramas War Horse (2011), Lincoln (2012), and The Post (2017).

In addition to filmmaking, he co-founded Amblin Entertainment and DreamWorks, and has served as a producer for many television series and films. Spielberg is also known for his long time collaboration with composer John Williams, with whom he has worked for all but five of his feature films. Several of Spielberg's works are among the highest-grossing films of all time and have received acclaim; 11 of his films have been nominated for the Academy Award for Best Picture, and seven have been inducted into the National Film Registry by the Library of Congress as being "culturally, historically, or aesthetically significant".

1969–1974: FILM AND TELEVISION

Spielberg's first professional job came when he was hired to direct one of the segments for the 1969 pilot episode of Night Gallery, written by Rod Serling and starring Joan Crawford. Crawford was "speechless, and then horrified" at the thought of a young and inexperienced newcomer directing her. Spielberg attempted to impress his colleagues with fancy camerawork, but executives ordered him to shoot it quickly. His contributions were not well received, thus Spielberg took a short break from the studio. However, Crawford said of the director:

"When I began to work with Steven, I understood everything. It was immediately obvious to me, and probably everyone else, that here was a young genius. I thought maybe more experience was important, but then I thought of all of those experienced directors who didn't have Steven's intuitive inspiration and who just kept repeating the same old routine performances. That was called "experience." I knew then that Steven Spielberg had a brilliant future ahead of him. Hollywood doesn't always recognize talent, but Steven's was not going to be overlooked. I told him so in a note I wrote him. I wrote to Rod Serling, too. I was so grateful that he had approved Steven as the director. I told him he had been totally right."

In the early 1970s, Spielberg unsuccessfully tried to raise finance for his own low-budget films. He turned to writing screenplays with other writers, and then directing television episodes. These included the series: Marcus Welby, M.D., The Name of the Game ("L.A. 2017"), Columbo, Owen Marshall, Counselor at Law and The Psychiatrist. Although unsatisfied with this work, Spielberg used the opportunity to experiment with his techniques and learn about filmmaking. The director earned good reviews and impressed producers; he was earning a steady income and relocated to Laurel Canyon, Los Angeles.

Based on the strength of his work, Universal signed Spielberg to do four television films. The first was Duel (1971), adapted from Richard Matheson's short story of the same title. It is about a psychotic tanker truck driver who chases a terrified salesman (Dennis Weaver) down a highway. Impressed with the film, executives decided to promote the film on television. Reviews were mainly positive, and Universal asked Spielberg to shoot more scenes so that Duel could be released to international markets. Several films followed soon after: Something Evil (1972), and Savage (1973). Both features gained mixed reviews.

In 1974, Spielberg made his debut in a theatrical film, The Sugarland Express, about a married couple on the run, desperate to regain custody of their baby from foster parents. Based on a true story, the film would mark the first of many collaborations with composer John Williams; the director was impressed with his previous soundtracks. The film opened to four hundred theatres in the U.S. to positive reviews, and The Hollywood Reporter wrote that "a major new director is on the horizon." Although the film was honored for Best Screenplay at the 1974 Cannes Film Festival, it was not commercial success. Spielberg blamed Universal's inconsistent marketing for its poor box office results.

1975–1983: FILM BREAKTHROUGH

Producers Richard D. Zanuck and David Brown took a chance with Spielberg, and gave him the opportunity to direct Jaws (1975), a horror-thriller based on the Peter Benchley novel of the same title. In the film, a great white shark attacks beachgoers at a summer resort town, prompting police chief Martin Brody (Roy Scheider) to hunt it with the help of a marine biologist (Richard Dreyfuss). Filming proved to be challenging; Spielberg almost drowned and escaped being crushed from boats. The filming schedule overran by a hundred days, and Universal also threatened to cancel production. Against expectations, the film was a critical success; Jaws won three Academy Awards, in Best Film Editing, Best Original Dramatic Score, and Best Sound, and grossed more than $470 million worldwide. It also set the domestic box office record, leading to what the press described as "Jawsmania", and making Spielberg a household name. After watching the unconventional, off-center camera techniques of Jaws, Alfred Hitchcock praised "young Spielberg", for thinking outside of the visual dynamics of the theater, saying "He's the first one of us who doesn't see the proscenium arch".

After the success of Jaws, the director turned down an offer to make its sequel, Jaws 2. Spielberg and Richard Dreyfuss re-convened to work on a film about UFOs: Close Encounters of the Third Kind (1977). During filming, Spielberg used 65 mm film for the best picture quality, and a new live-action recording system so that the recordings could be duplicated later. One of the rare films both written and directed by himself, Close Encounters was very popular with film-goers, and Spielberg received his first Best Director nomination from the Academy Awards. It also earned six more nominations, winning Best Cinematography, and Best Sound Effects Editing. A Special Edition version of the film, featuring both shortened and newly added scenes, was released theatrically in 1980.

His next film was 1979's big-budget action-comedy 1941, about Californians preparing for a Japanese invasion after the attack on Pearl Harbor. Spielberg was self-conscious about doing comedy as he had no prior experience in it. However, he was keen on tackling a lighthearted genre. Universal and Columbia agreed to co-finance the film. Upon release, it grossed over $92.4 million worldwide, but most critics including the studio heads disliked the film. Writing for the Los Angeles Times, Charles Champlin described 1941 as "the most conspicuous waste since the last major oil spill, which it somewhat resembles". Another critic wrote "1941 isn't simply a silly slur against any particular race, sex, or generation - it makes war against all humanity."

Next, Spielberg collaborated with Star Wars creator George Lucas on an action adventure, Raiders of the Lost Ark (1981), the first film in the Indiana Jones franchise. The title character was played by Harrison Ford (whom Lucas had previously cast in his Star Wars films as Han Solo). Ford was Spielberg's first choice for the role. Filmed in North Africa, the shoot was difficult but Spielberg said that the experience helped him with his business acumen. The film was a success at the box office, and won five Academy Awards; Spielberg received his second nomination for Best Director, and Best Picture. Raiders of the Lost Ark was considered by Spielberg and Lucas as a homage to the serials of the 1930s and 1940s. Spielberg started to co-produce films, including 1982's Poltergeist, and directed the segment "Kick The Can" in The Twilight Zone. In a previous segment, Vic Morrow and two child actors were killed in a stunt helicopter crash. Spielberg was not directing or present during the incident, and was cleared of any wrongdoing by the National Transportation Safety Board.

A year later, Spielberg returned to science fiction with E.T. the Extra-Terrestrial (1982). It is the story of a young boy (Henry Thomas) and the alien he befriends, who was accidentally left behind by his companions and is attempting to return home. Spielberg shot the film mostly in sequence to keep the children spontaneous towards the climax. E.T. premiered at the 1982 Cannes Film Festival to an ecstatic reaction; producer Kathleen Kennedy recalled, "You couldn't hear the end of the movie because people were on their feet stomping and yelling [...] It was one of the most amazing experiences." A special screening was organized for President Reagan and his wife Nancy, who were emotional by the end of the film. E.T. grossed $700 million worldwide, and spawned a range of merchandise which would eventually earn up to $1 billion. The film was nominated for nine Academy Awards, winning Best Sound Effects, Best Special Effects, and Best Music.

His next directorial feature was the Raiders of the Lost Ark prequel, Indiana Jones and the Temple of Doom (1984). Working once again with George Lucas and Harrison Ford, the film was shot in the United States, Sri Lanka and China. This film and Gremlins led to the creation of the PG-13 rating because some of the material was not suitable for children under 13. Temple of Doom was rated PG-13 by the MPAA; some scenes depicted children working in the mines. The director later said that he was unhappy with the Temple of Doom because it did not have his "personal touches and love". Nonetheless, the film was a blockbuster hit, and won an Academy Award for Best Special Effects. It was on this project that Spielberg also met his future wife, actress Kate Capshaw, who played Willie Scott in the film.

1984–1990: FROM PRODUCING TO DIRECTING

In 1984, Spielberg, Frank Marshall, and Kathleen Kennedy founded production company Amblin Entertainment. Between 1984 and 1990, Spielberg served as either producer or executive producer on nineteen feature films; these include: The Goonies, The Money Pit, Joe Versus the Volcano, *batteries not included, Back to the Future, Cape Fear, and Who Framed Roger Rabbit. In some films, such as Harry and the Hendersons and Young Sherlock Holmes, the title "Steven Spielberg Presents" would be shown in the opening credits. Much of Spielberg's producing work was aimed at children and teens, including cartoons such as Tiny Toon Adventures, Animaniacs, Pinky and the Brain, and Freakazoid!, and Family Dog. Spielberg also produced the Don Bluth animations, An American Tail and The Land Before Time.

Beginning in 1985, NBC offered Spielberg a two-year contract on a television series, Amazing Stories; the show was marketed as a blend of The Twilight Zone and Alfred Hitchcock Presents. NBC gave the director complete creative control, and a budget of $1 million for each episode. After two seasons and disappointing ratings, the show was not renewed. Although Spielberg's involvement as a producer would vary widely from project to project, director Robert Zemeckis said that Spielberg would always "respect the filmmaker's vision". Over the years, Spielberg's record as a producer brought mixed critical and commercial performance. In 1992, Spielberg began to scale back producing, saying "Producing has been the least fulfilling aspect of what I've done in the last decade." In 1994, he found success for producing the successful medical drama ER.

In the early 1980s, Spielberg befriended WarnerMedia CEO Steve Ross, which eventually resulted in the director making films for Warner Bros. In 1985, Spielberg directed The Color Purple, an adaptation of Alice Walker's Pulitzer Prize-winning novel of the same title, about a generation of empowered African-American women during depression-era America. It was the director's first film on a serious topic; he expressed reservations about tackling the project: "It's the risk of being judged-and accused of not having the sensibility to do character studies." Starring Whoopi Goldberg and Oprah Winfrey, the film was a box office hit and critics started to take Spielberg's foray into the dramatic genre seriously. Roger Ebert rated it as the best film of the year. The film also received eleven Academy Award nominations, and Spielberg won Best Director from the Director's Guild of America.

As China underwent economic reform and opened up to the American film industry, Spielberg managed to shoot the first American film in Shanghai since the 1930s. Empire of the Sun (1987), an adaptation of J. G. Ballard's autobiographical novel of the same title, starred John Malkovich and a young Christian Bale. The film tells the story of Jamie Graham (Bale), a young boy who goes from living in a wealthy British family in Shanghai, to becoming a prisoner of war in a Japanese internment camp during World War II. Critical consensus was mixed at the time of release; criticism ranged from the "overwrought" plot, to Spielberg's downplaying of "disease and starvation". However, critic Andrew Sarris called it the best film of the year and later included it among the best of the decade. The film was nominated for six Academy Awards, but was a commercial disappointment at the box office. The New York Times thought it was overlooked by audiences; Spielberg recalled that Empire of the Sun was one of his most enjoyable films to make.

After those two serious films, Spielberg intended to direct the comedy Rain Man, but instead directed the third Indiana Jones film to meet his contractual obligations: Indiana Jones and the Last Crusade (1989). Producer George Lucas, and Harrison Ford returned for the film. Spielberg cast Sean Connery in a supporting role as Henry Jones, Sr. As a result of the mixed reaction to 1984's Temple of Doom, the director toned down the darkness and violence in the third installment. Last Crusade gained mostly respectful reviews and was a box office success, earning $474 million; it was his biggest hit since 1982's E.T. Biographer Joseph McBride wrote that it was a comeback for Spielberg, and the director acknowledged the amount he has learned from making all three Indiana Jones films.

Also in 1989, he reunited with Richard Dreyfuss in the romantic drama Always, about a daredevil pilot who extinguishes forest fires. It is a modern remake of one of Spielberg's childhood favorite films, 1943's A Guy Named Joe. The story was personal to him, and he said "As a child I was very frustrated, and maybe I saw my own parents [in A Guy Named Joe]. I was also short of girlfriends. And it stuck with me." Spielberg had discussed the film with Dreyfuss back in 1975, with up to twelve drafts being written before filming commenced. Always was not commercially successful and received mixed reviews. Janet Maslin of the New York Times wrote, "Always is filled with big, sentimental moments, it lacks the intimacy to make any of this very moving."

1991–1998: CRITICAL & COMMERCIAL SUCCESS

After a brief setback in which the director felt "artistically stalled", he returned in 1991 with Hook, about a middle-aged Peter Pan, played by Robin Williams, who returns to Neverland. During filming, Williams, co-stars Dustin Hoffman and Julia Roberts clashed on set due to their personalities; Spielberg told the 60 Minutes program that he would never work with Roberts again. Nominated for five Academy Awards, the studio enjoyed the film but most critics did not, calling it "bloated". Writing for The Washington Post, Hal Hinson described the film as "too industrially organized", and thought it was mundane. At the box office, it earned over $300 million worldwide from a $70 million budget. In 1993, Spielberg served as an executive producer for the NBC science fiction series seaQuest DSV; the show was not a hit.

In 1993, Spielberg returned to the adventure genre with Jurassic Park, based on the 1990 novel of the same title by Michael Crichton, and a screenplay by the latter and David Koepp. Jurassic Park is set on a fictional island near Costa Rica, where a team of genetic scientists have created a wildlife park of de-extinct dinosaurs. In a departure from his usual order of planning, Spielberg and the designers storyboarded certain sequences from the novel early on. The film also used computer-generated imagery provided by Industrial Light & Magic; Jurassic Park was completed on time and became the highest-grossing film at the time, and won three Academy Awards. The film's dominance during its theatrical run, as well as Spielberg's $250 million salary, caused the director to be self-conscious of his own success.

Also in 1993, Spielberg directed Schindler's List, about Oskar Schindler, a man who risked his life to save 1,100 Jews from the Holocaust. Based on Schindler's Ark by Australian novelist Thomas Keneally, Spielberg waited ten years to make the film as he did not feel "mature" enough. He wanted to embrace his heritage, and after the birth of his son, Max, he said that "it greatly affected me [...] A spirit began to ignite in me, and I became a Jewish dad". Filming commenced on March 1, 1993 in Poland, while Spielberg was still editing Jurassic Park in the evenings. To make filming "bearable", the director brought his wife and children with him. While Schindler's List was praised by most critics, some reviewers, including filmmaker Claude Lanzmann, criticized the film for its weak representation of the Holocaust. Imre Kertész, a Hungarian author and concentration camp survivor, called Schindler's List kitsch, saying "I regard as kitsch any representation of the Holocaust that is incapable of understanding or unwilling to understand the organic connection between our own deformed mode of life and the very possibility of the Holocaust." Against expectations, the film was a commercial success, and Spielberg used his percentage of profits to start the Shoah Foundation, a non-profit organization that archives testimonies of Holocaust survivors. Schindler's List won seven Academy Awards, including Best Picture, and Spielberg's first as Best Director. It also won seven BAFTAs, and three Golden Globes. According to the American Film Institute, Schindler's List is one of the 100 best American films ever made.

In 1994, Spielberg took a break from directing to spend more time with his family, and setup his new film studio, DreamWorks, with Jeffrey Katzenberg and David Geffen. More creative control and distribution improvements were the main reasons why Spielberg wanted his own studio; he and his partners compared themselves to the founders of United Artists back in 1919. Investors included Microsoft founders Paul Allen and Bill Gates. After founding DreamWorks, Spielberg continued to operate Amblin Entertainment and direct films for other studios. Besides film, the director helped design a Jurassic Park-themed attraction at Universal Orlando in Florida. The workload of filmmaking and operating a studio raised questions about his commitments, but Spielberg maintained that "this is all fitting nicely into my life and I'm still home by six and I'm still home on the weekends."

After his break, he returned to directing with a sequel to Jurassic Park: The Lost World: Jurassic Park. A loose adaptation of Michael Crichton's novel, The Lost World, the plot follows mathematician Ian Malcolm (Jeff Goldblum) and his researchers who study dinosaurs at a Jurassic Park island, and are confronted by another team with a different agenda. This time, Spielberg wanted the onscreen creatures to be more realistic than in the first film; he used 3D storyboards, computer imagery and robotic puppets. Budgeted at $73 million, The Lost World: Jurassic Park opened in May 1997 and was one of the highest grossing films of the year. The Village Voice critic opined that The Lost World was "better crafted but less fun" that the first film, while The Guardian wrote "It looks like a director on autopilot [...] The special effects brook no argument."

His 1997 feature, Amistad, his first released under DreamWorks, was based on the true story of the events in 1839 aboard the slave ship La Amistad. Producer Debbie Allen, who had read the book Amistad I in 1978, thought Spielberg would be perfect to direct. Spielberg was hesitant taking on the project, afraid that it will be compared to Schindler's List, but he said, "I've never planned my career [...] In the end I do what I think I gotta do." Starring Morgan Freeman, Anthony Hopkins, Djimon Hounsou and Matthew McConaughey, the director used Allen's ten years worth of research to re-enact the difficult historical scenes. The film struggled to find an audience, and under-performed at the box office; Spielberg admitted that "[Amistad] became too much of a history lesson." But we think it is an understated historical masterpiece, and that it is worth making a loss every now and again to support films that might not have massive dollar returns.

The director's 1998 release was World War II epic Saving Private Ryan, about a group of U.S. soldiers led by Captain Miller (Tom Hanks) sent to bring home a paratrooper whose three older brothers were killed in the same twenty-four hours of the Normandy landing. Filming took place in England, and U.S. Marine Dale Dye was hired to train the actors and keep them in character during the combat scenes. Halfway through filming, Spielberg reminded the cast that they were making a tribute to thank "your grandparents and my dad, who fought in [the war]". Upon release, critics praised the direction and its realistic portrayal of war. The film grossed a successful $481 million worldwide, and Spielberg won a second Academy Award for Best Director. In August 1999, Spielberg and Hanks were awarded the Distinguished Public Service Medal from Secretary of Defense William S. Cohen.

1999–2007: FURTHER DIRECTORIAL WORK

In 2001, Spielberg and Tom Hanks produced Band of Brothers, a miniseries based on Stephen Ambrose's book of the same title. The ten-part HBO series follows Easy Company of the 101st Airborne Division's 506th Parachute Infantry Regiment. The series won a Golden Globe for Best Miniseries. Also in that year, Spielberg returned to film with A.I. Artificial Intelligence, a loose adaptation of the 1969 short story "Supertoys Last All Summer Long" by Brian Aldiss. Filmmaker Stanley Kubrick had first asked Spielberg to direct the feature in 1979. Spielberg tried to make it in the style that Kubrick would have done, with mixed results according to some reviewers. The plot revolves around an android called David (Haley Joel Osment) who wants to be a real boy. Critics thought Spielberg directed with "sentimentality", and Roger Ebert wrote, "Here is one of the most ambitious films of recent years [...] but it miscalculates in asking us to invest our emotions in a character, a machine." The film won five Saturn Awards, and grossed $236 million worldwide.

Spielberg and Tom Cruise collaborated for the futuristic neo-noir Minority Report (2002), based on the short story by Philip K. Dick, about a group of investigators who try to prevent crimes before they are committed. The film received critical acclaim. Roger Ebert named Minority Report as the best film of 2002, and praised its vision of the future. Homewer, critic Todd McCarthy thought there was not enough action. The film earned over $358 million worldwide.[169] The director's next 2002 feature, Catch Me If You Can is about the adventures of a young con artist (played by Leonardo DiCaprio). Christopher Walken and Tom Hanks also star. It is set in the 1960s; Spielberg said, "I have always loves movies about sensational rogues—they break the law, but you just have to love them for the moxie." At the 75th Academy Awards, Walken and John Williams were nominated for Best Supporting Actor and Best Original Score, respectively. The film was a critical and commercial success.

The director worked with Tom Hanks again, along with Catherine Zeta-Jones and Stanley Tucci in 2004's The Terminal, a lighthearted comedy about an Eastern European man stranded in an airport. Although The Terminal was praised for its production design, the film received mixed reviews but it was a commercial success. In 2005, Spielberg directed a modern adaptation of War of the Worlds, a co-production of Paramount and DreamWorks, based on H. G. Wells' book of the same title; Spielberg had been a fan of the book and the 1953 film. Starring Tom Cruise and Dakota Fanning, the film follows an American dock worker who is forced to look after his children, from whom he lives separately, as he struggles to protect and reunite them with their mother when extraterrestrials invade Earth. The director used storyboards to help the actors react to computer imagery that they could not see, and used natural lighting and camerawork to avoid an "over stylized" science fiction picture. Upon release, the film was box office hit, grossing over $600 million worldwide.

Spielberg's Munich (2005), is about eleven Israeli athletes who were kidnapped and murdered in the 1972 Munich massacre. The film is based on Vengeance, a book by Canadian journalist George Jonas. It was previously adapted for the screen in the 1986 television film Sword of Gideon. Spielberg, who personally remembers the incident, sought advice from former President Bill Clinton, among others, before making the film because he did not want to cause further problems in the Middle East. Although the film garnered mostly positive reviews, some critics perceived it as anti-Semitic; it is one of Spielberg's most controversial films to date. Munich received five Academy Awards nominations: Best Picture, Best Film Editing, Best Score, Best Adapted Screenplay, and Best Director for Spielberg. It was his sixth Best Director nomination, and fifth Best Picture nomination.

In the mid-2000s, Spielberg scaled down his directing career and became selective about film projects to undertake. In December 2005, Spielberg and his partners sold DreamWorks to media conglomerate Viacom (now known as ViacomCBS). The sale was finalized in February 2006. In June 2006, Spielberg planned to make Interstellar, but abandoned the project, which was eventually directed by Christopher Nolan. During this time, Spielberg remained active as a producer; he produced 2005's Memoirs of a Geisha, an adaptation of the novel by Arthur Golden. Spielberg and Robert Zemeckis co-produced Monster House (2006), marking their eighth collaboration. He also worked with Clint Eastwood for the first time, co-producing 2006's Flags of Our Fathers, and Letters from Iwo Jima, with Robert Lorenz. Spielberg served as executive producer for 2007's Disturbia, and the Transformers film series. In that same year, Spielberg and Mark Burnett co-produced On the Lot, a reality and competition show about filmmaking.

2008–2015: RETURN TO FILM
The director returned to the Indiana Jones series in 2008 with the fourth installment titled Indiana Jones and the Kingdom of the Crystal Skull. Released nineteen years after Last Crusade, the film is set in 1957, pitting Indiana Jones (Harrison Ford) against Soviet agents led by Irina Spalko (Cate Blanchett), searching for a telepathic crystal skull. Principal photography was complete in October 2007, and the film was released on May 22, 2008. This was his first film not released by DreamWorks since 1997. The film received generally favorable reviews from critics, but some fans were disappointed by the introduction of alien life which was uncharacteristic of the previous films. Writing for The Age, Tom Ryan praised Spielberg and George Lucas for their realistic 1950s setting—"The energy on display is impressive". It was a box office success, grossing $790 million worldwide.

In early 2009, Spielberg shot the first film in a planned trilogy of motion capture films based on The Adventures of Tintin, written by Belgian artist Hergé. The Adventures of Tintin: The Secret of the Unicorn, was co-produced by Peter Jackson, and released in 2011; it was entirely computer animated. It premiered on October 22 in Brussels, Belgium. The film was released in North American theaters on December 21, in Digital 3D and IMAX. It received generally positive reviews from critics, and grossed over $373 million worldwide. The Adventures of Tintin won Best Animated Feature at the 69th Golden Globe Awards. It was the first non-Pixar film to win the award since the category was introduced.

Spielberg followed up with War Horse, shot in England in the summer of 2010. It was released four days after brilliant 'The Adventures of Tintin,' on December 25, 2011. The film is based on the novel of the same title by Michael Morpurgo, published in 1982, and follows the long friendship between a British boy and his horse Joey before and during World War I. Distributed by Walt Disney Studios, with whom DreamWorks made a distribution deal in 2009, War Horse was the first of four consecutive Spielberg films released by Disney. War Horse had an acclaimed response from critics, and was nominated for six Academy Awards, including Best Picture. In his review for Salon magazine, Andrew O'Hehir wrote, "at this point in his career Spielberg is pursuing personal goals, and everything that's terrific and overly flat and tooth-rottingly sweet about War Horse reflects that."

Spielberg returned to the World War II theme, co-producing the 2010 miniseries The Pacific, with Tom Hanks and Gary Goetzman. The miniseries is centered on the battles in the Pacific Theater.[204] The following year, Spielberg co-created Falling Skies, a science fiction series on the TNT network, with Robert Rodat. Spielberg also produced the 2011 Fox series Terra Nova. Terra Nova begins in the year 2149 when all life on the planet Earth is threatened with extinction resulting in scientists opening a door that allows people to travel back 85 million years to prehistoric times. In that same year, he produced J. J. Abrams' thriller, Super 8.

Spielberg directed the historical drama Lincoln (2012), starring Daniel Day-Lewis as President Abraham Lincoln, and Sally Field as Mary Todd Lincoln. Based on Doris Kearns Goodwin's book Team of Rivals: The Political Genius of Abraham Lincoln, the film describes the final four months of Lincoln's life. Written by Tony Kushner, the film was shot in Richmond, Virginia, in late 2011, and was released in the U.S. in November 2012. Lincoln was acclaimed, it earned more than $250 million worldwide, and was nominated for twelve Academy Awards, including Best Picture and Best Director. It won Best Production Design, and Day-Lewis won Best Actor for his portrayal of Lincoln. The critic from The Irish Times complimented the direction: "Against the odds, Spielberg makes something genuinely exciting of the backstage wheedling."

It was announced on May 2, 2013 that Spielberg would direct American Sniper, but he left the project before production began. Instead, he directed 2015's Bridge of Spies, a Cold War thriller based on the 1960 U-2 incident, and focusing on James B. Donovan's negotiations with the Soviets for the release of pilot Gary Powers after his aircraft was shot down over Soviet territory. The screenplay was by the Coen brothers, and the film starred Tom Hanks as Donovan, as well as Mark Rylance, Amy Ryan, and Alan Alda. It was filmed in the fall of 2014 in New York City, Berlin and Wroclaw, and was released on October 16. Bridge of Spies was popular with critics, and was nominated for six Academy Awards, including Best Picture; Rylance won Best Supporting Actor, becoming the second actor to win for a performance directed by Spielberg.

2016 - PRESENT

In 2016, the director made The BFG, an adaptation of Roald Dahl's children's book, starring newcomer Ruby Barnhill, and Rylance as the titular Big Friendly Giant. DreamWorks bought the rights in 2010, and John Madden had intended to direct. The film was the last to be written by E.T. screenwriter Melissa Mathison before her death. It was co-produced and released by Walt Disney Pictures, marking the first Disney-branded film to be directed by Spielberg. The BFG premiered as an out-of-competition entry at the 2016 Cannes Film Festival, and received a wide release in the U.S. on July 1, 2016. The BFG welcomed fair reviews; Michael Phillips of Chicago Tribune compared certain scenes to the works of earlier filmmakers, while Toronto Sun's Liz Braun thought that there were "moments of wonder and delight [...] but not nearly enough".

A year later, Spielberg directed The Post, an account of The Washington Post's printing of the Pentagon Papers. Starring Tom Hanks and Meryl Streep, production began in New York on May 30, 2017. Spielberg stated his attraction to the project: "When I read the first draft of the script, this wasn't something that could wait three years or two years—this was a story I felt we needed to tell today." The film received a wide release on January 12, 2018. The Post gained positive reception; the critic from the Associated Press thought "Spielberg infuses every scene with tension and life and the grandeur of the ordinary that he's always been so good at conveying." In 2017, Spielberg and other filmmakers were featured in the Netflix documentary series Five Came Back, which discussed the contributions of directors Frank Capra, John Ford, John Huston, George Stevens and William Wyler, about their war-related works. Spielberg also served as an executive producer.

Spielberg directed 2018's science fiction Ready Player One, adapted from the novel of the same title by Ernest Cline. It stars Tye Sheridan, Olivia Cooke, Ben Mendelsohn, Lena Waithe, T.J. Miller, Simon Pegg, and Mark Rylance. The plot takes place in 2045 when much of humanity uses virtual reality to escape the real world. Ready Player One began production in July 2016, and was to be released by Warner Bros. on December 15, 2017, but was moved to March 2018 to avoid competition with Star Wars: The Last Jedi. It premiered at the 2018 South by Southwest film festival. Several critics enjoyed the action scenes, but thought the film was too long and overused the 1980s nostalgia. In 2019, Spielberg filmed West Side Story, a new adaptation of the musical of the same name. Writer Tony Kushner stated in July 2017 that he was adapting the show's book for Spielberg, although the score would remain unchanged, as would the late 1950s setting. The film was set for a December 2020 release, which was postponed to December 2021, due to the COVID-19 pandemic.

Spielberg had planned to direct the fifth installment of the Indiana Jones series. The film is set to star Harrison Ford and will be produced by Kathleen Kennedy and Frank Marshall. In 2016, it was announced that it would be written by David Koepp, with a release by Disney on July 19, 2019. After a change of filming and release dates, it was postponed again when Jonathan Kasdan was announced as the film's new writer. Soon after, a new release date of July 9, 2021 was announced. In May 2019, Dan Fogelman was hired to write a new script, and Kasdan's story, focused on the Nazi gold train, would not be used. In February 2020, it was reported that Spielberg had left the role of director, and would be replaced by James Mangold. However, Spielberg expressed that he would remain as a "hands on" producer for the film. In April 2020, it was announced that the release of the film was again delayed to July 29, 2022 as the COVID-19 pandemic continued to cause theaters to remain closed. The film began production in the UK in June 2021.

Spielberg is next set to direct The Fabelmans, a fictionalized account of his own childhood, which he wrote with Tony Kushner. Gabriel LaBelle has been cast to play a character inspired by Spielberg, while Michelle Williams will play the character's mother, Paul Dano will play his father and Seth Rogen will play his favorite uncle. Filming is set for Summer 2021.