K U L O - L U N A - $BILLION DOLLAR WHALE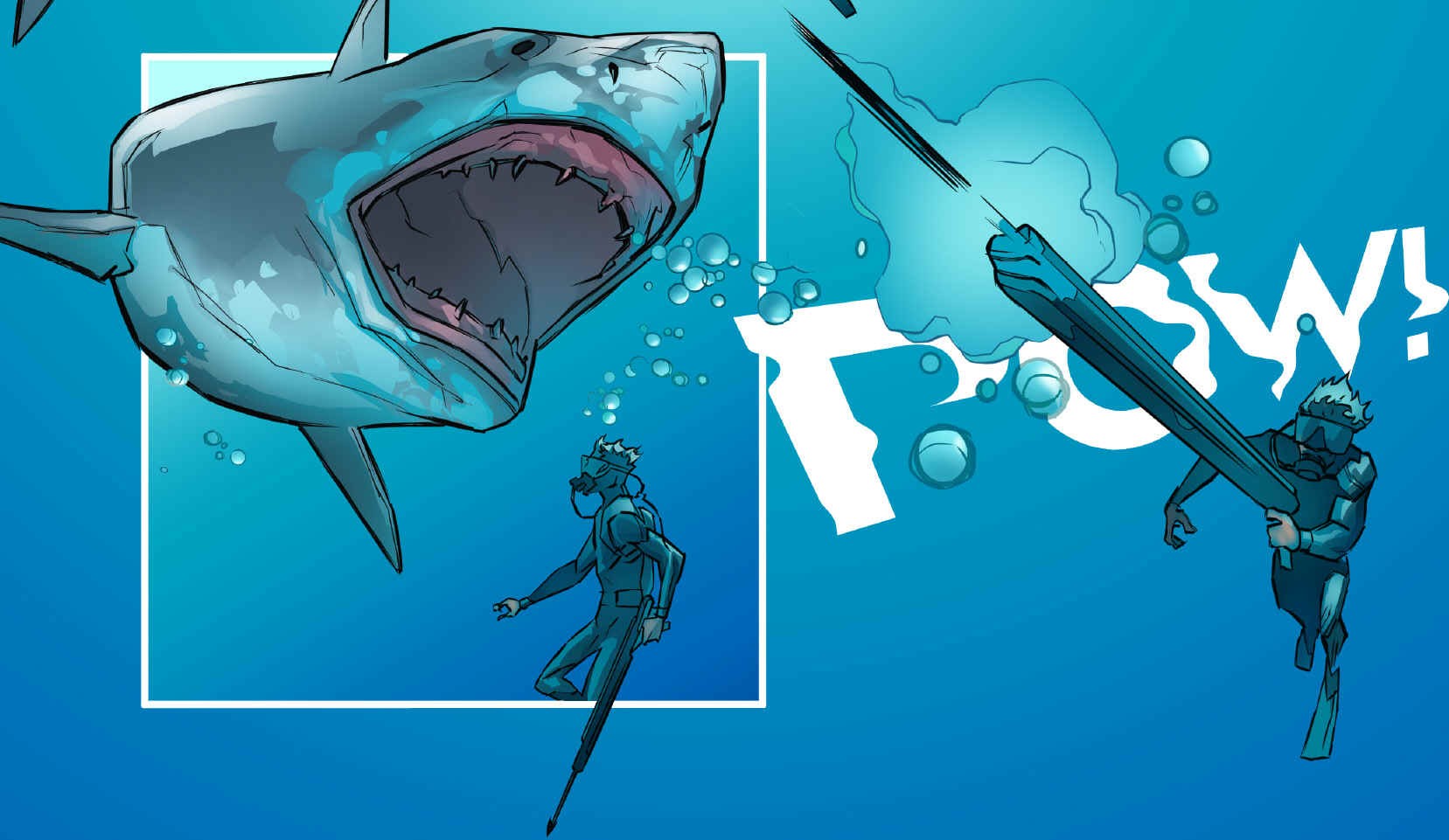 Before he can rescue an injured humpback whale from fish netting, John Storm has to take on four hungry sharks. Fortunately he is a resourceful ocean adventurer. He beats off the attackers, then calms the giant whale they were circling, who is injured and bleeding badly. Then the ocean conservationist's mission begins. The KULO-LUNA draft script is now published, as is CLEOPATRA THE MUMMY, both available as Final Draft screenplays. TREASURE ISLAND: BLACKBEARD'S CURSE & PIRATES GOLD, and OPERATION NEPTUNE: THE LOST CITY OF ATLANTIS, are presently being developed, aiming for 2024, and 2025 completion (respectively) - though could be accelerated, with and for identified partners.
| | | | | |
| --- | --- | --- | --- | --- |
| Set in a future, against food shortages from dangerously high levels of toxins in fish, and desertification reducing arable land to grow crops, sustainable whaling is allowed by the Commission to feed starving fishing nations and stave off hostilities, but vulnerable species remained protected. Even so the whales feel threatened and tension builds. Kulo Luna is the tale of a humpback whale who fights back. | | Attacked by whalers in the Philippine Sea and struck by a harpoon Kulo-Luna rams and sinks her antagonists, after they kill her friend Kana. Parallel to this incident, a solar boat race starts from Hawaii, when news of the whale sinking a whaler goes viral, the race leader, John Storm, abandons his lead to help the injured whale. John and his mate Dan are just in time to save the giant whale from being devoured by sharks. | | They nurse the whale back to health with the help of a beautiful Japanese marine biologist, flown in by the media. The trio escort Kulo Luna to safe haven off the coast of Australia, while being chased by whalers, battling plastic pollution - with the price on the whale's head increasing from international online betting - closing with an uplifting and inspiring finale, as protagonist and antagonist become strange allies. |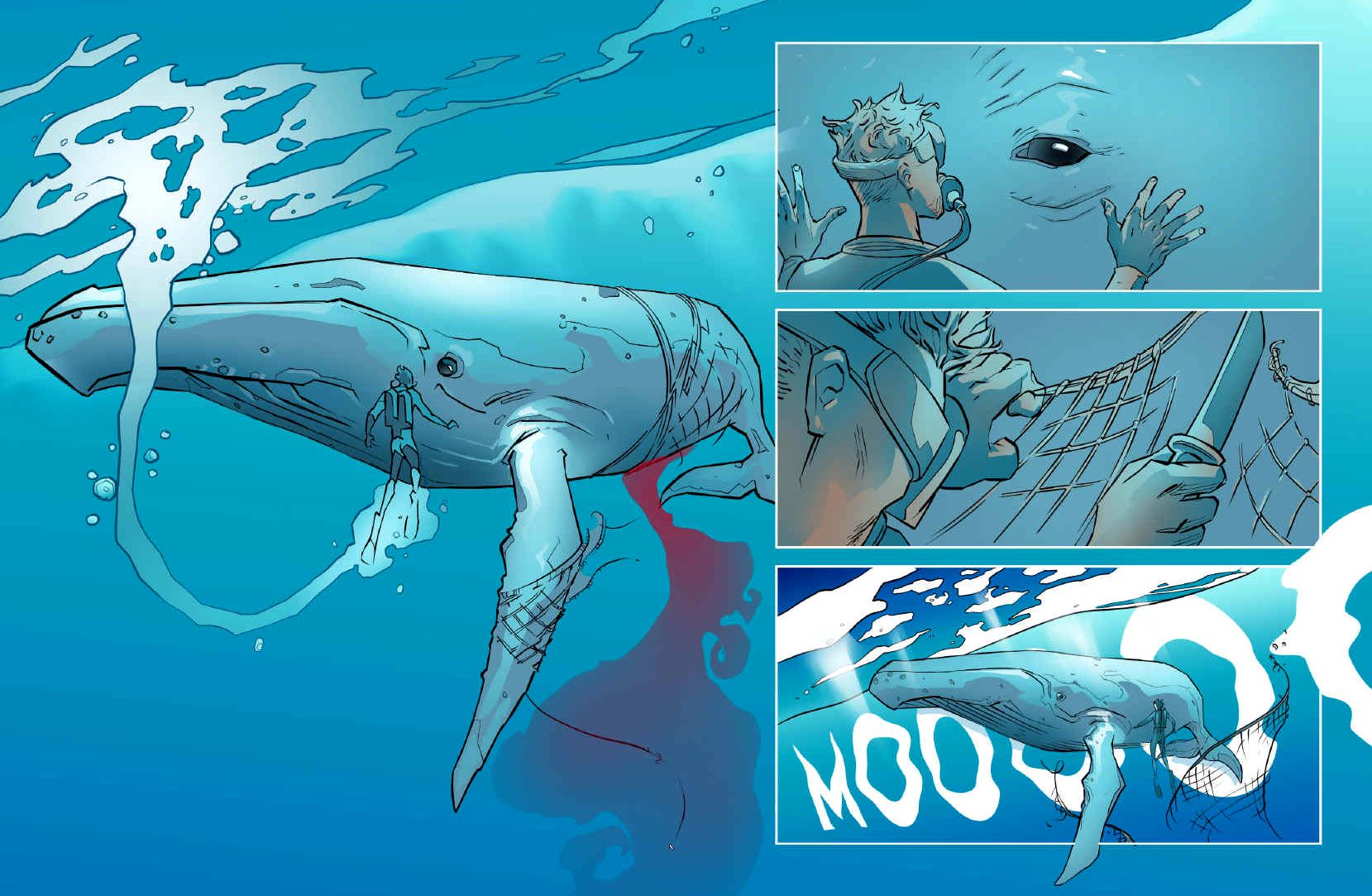 John is captain of the Elizabeth Swann, a solar and wind powered craft, that he likes to cruise in, and race occasionally. Fortunately for Kulo Luna, the Elizabeth Swann is not only swift, but superbly equipped for scientific and ocean conservation tasks.
The Swann is the kind of vessel James Bond and 'Q' Branch would envy. It is stacked full of juicy ocean tech. John inherited the craft from his genius uncle, as a puzzle to be completed. It is zero emission, using solar panels that track the sun and a turbine that hunts for wind automatically, to generate clean electricity for propulsion. A feat Captain Nemo would endorse.
The Swann is AI smart. There is an onboard computer that takes care of navigation. The Swann is the RoboTaxi of the ocean. It pilots itself when the crew get tired or need a hand. The Swann is ultra economical, powered by free energy from nature. The boat is a character in the story. It is based on real-life energy and hull studies. The vessel could be constructed tomorrow with all the features in this story, including autonomous navigation - a dream situation for special effects departments. Kulo Luna is a modern Moby Dick, with a twist, in that there is a happy ending for everyone in this story, including the whalers. Herman Melville might approve, the embittered Captain Ahab may not.
| | | |
| --- | --- | --- |
| Influences include elements of Moby Dick, Bond intrigue, with National Treasure overtones, featuring high tech, climate-friendly AI marine transport, to help our protagonist battle global warming, and plastic pollution. Kulo Luna is an innovative Ocean Awareness Campaign, and solid family entertainment. Jameson Hunter is keen to complete films & graphic novels to reach next generations. | | Building on the graphic novel concept for these adventures, the partners are looking to develop live action and animation scripts. The aim being to craft the concept into an ocean based adventure franchise, working with like minded investors for a cleaner future. This project is non-political, a fight against pollution as brothers united, by way of an uplifting anti-pollution message. |
The trilogy includes: 'CLEOPATRA THE MUMMY.' Published in March 2024. 'TREASURE ISLAND' aiming for publication in early 2024 (under development) , and 'KULO-LUNA,' also published as a screenplay. All written in and available as Final Draft documents for studio executives, directors and producers.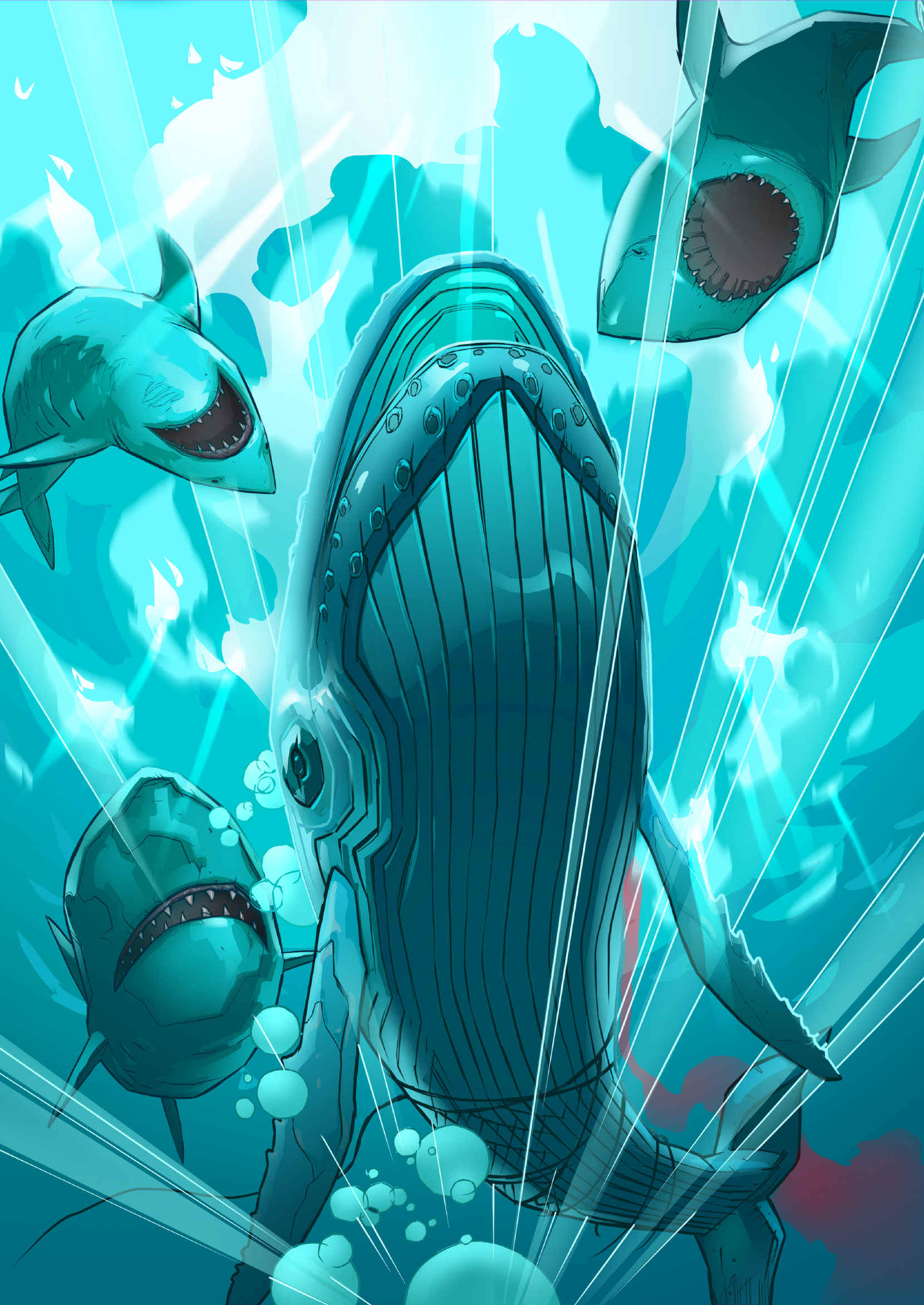 Helplessly trapped in discarded fishing gear, Kulo-Luna is not long for this world, her wound tainting the water with blood that is a calling card to all sharks in her location. Budding artists can see how a professional works as part of a team to produce a finished work from a concept, by clicking on the picture. Apart from Bond, Influences include Jaws, In The Heart Of The Sea, Tarzan and National Treasure.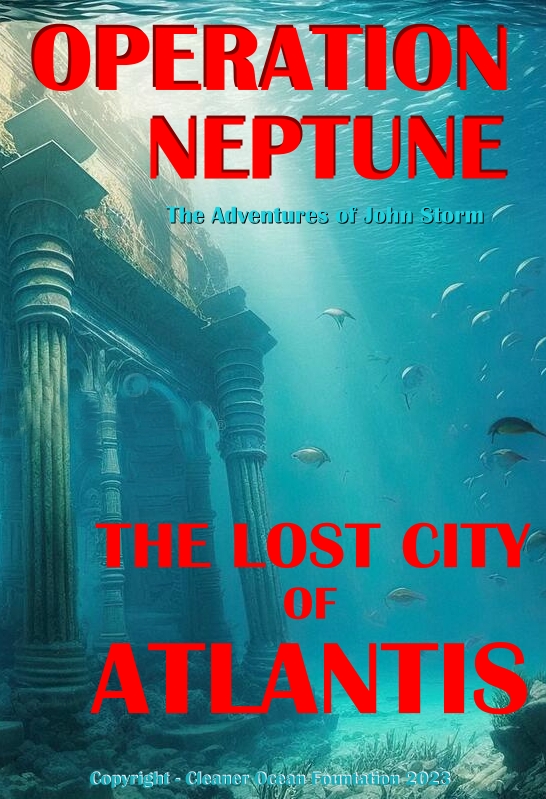 Plato described Atlantis as an island larger than Asia Minor and Libya combined, and situated just beyond the Pillars of Hercules (the Strait of Gibraltar). Atlantis was mythologized to have been founded by Poseidon, the Greek god of the seas. He made his son Atlas the king and named the city after him, as well as the ocean around it, hence the Atlantic Ocean.

According to legend, Atlantis was populated by an advanced society which perished after the island subcontinent was submerged beneath the waters of the Atlantic Ocean somewhere past the Pillars of Hercules (assumed to be the Strait of Gibraltar). The name Atlantis is derived from the ancient Greek term for "island of Atlas."
Please use our A-Z INDEX to navigate this site or return HOME
This website and Kulo Luna artwork is Copyright © 2023 Cleaner Ocean Foundation and Jameson Hunter
Kulo Luna™ is a registered trade mark with international application(s) pending.