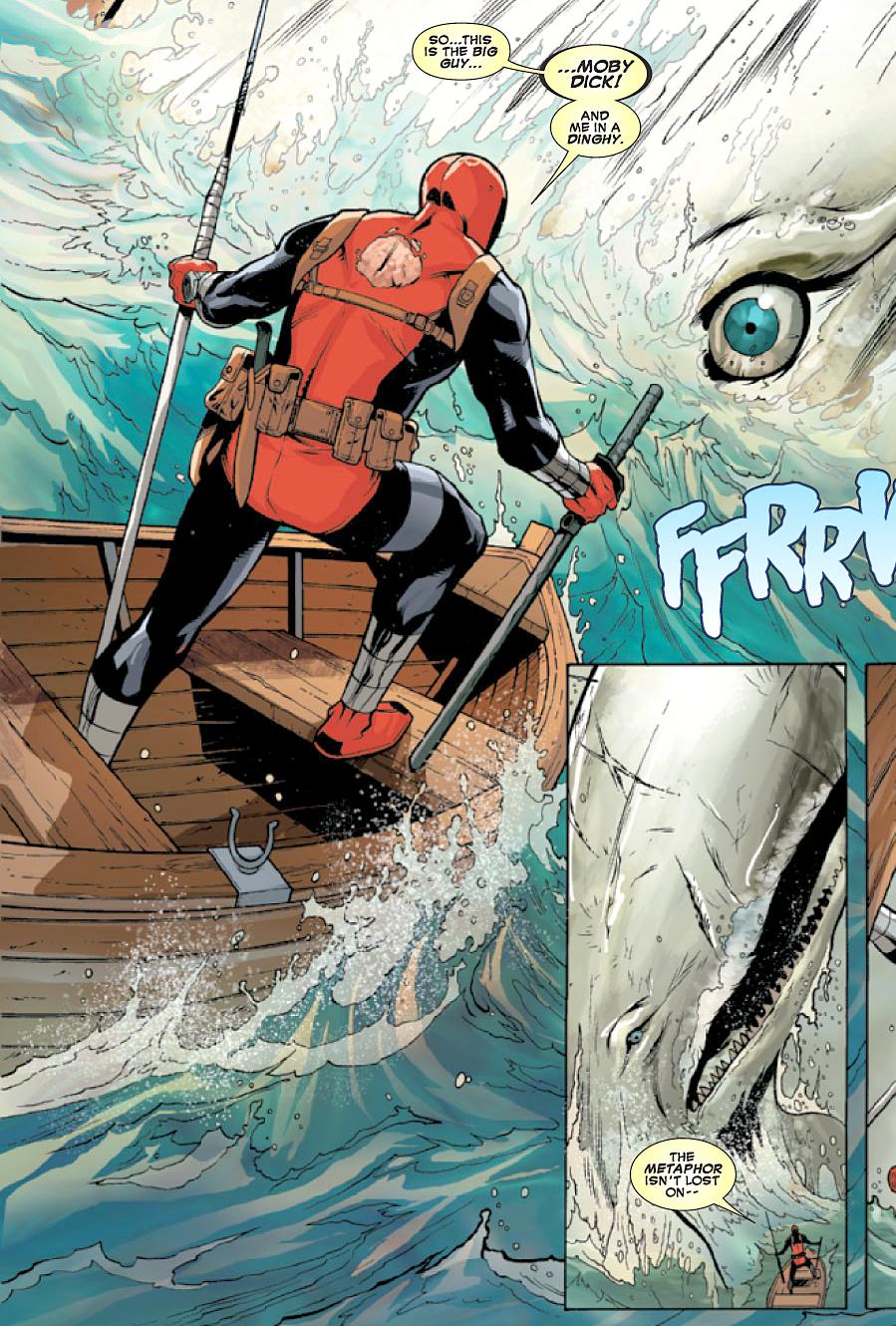 Deadpool attacks the giant sperm whale, Moby Dick, in a wooden rowing boat.
Marvel have branched out from their illustrated adaptations of Herman Melville's classic tale of a giant albino whale, Moby Dick.
Deadpool (Wade Winston Wilson) is a fictional character appearing in American comic books published by Marvel Comics. Created by writer Fabian Nicieza and artist/writer Rob Liefeld, the character first appeared in The New Mutants #98 (cover-dated February 1991).
Initially Deadpool was depicted as a supervillain when he made his first appearance in The New Mutants and later in issues of X-Force, but later evolved into his more recognizable antiheroic persona. Deadpool, whose real name is Wade Wilson, is a disfigured mercenary with the superhuman ability of an accelerated healing factor and physical prowess. The character is known as the "Merc with a Mouth" because of his tendency to talk and joke constantly, including breaking the fourth wall for humorous effect and running gags.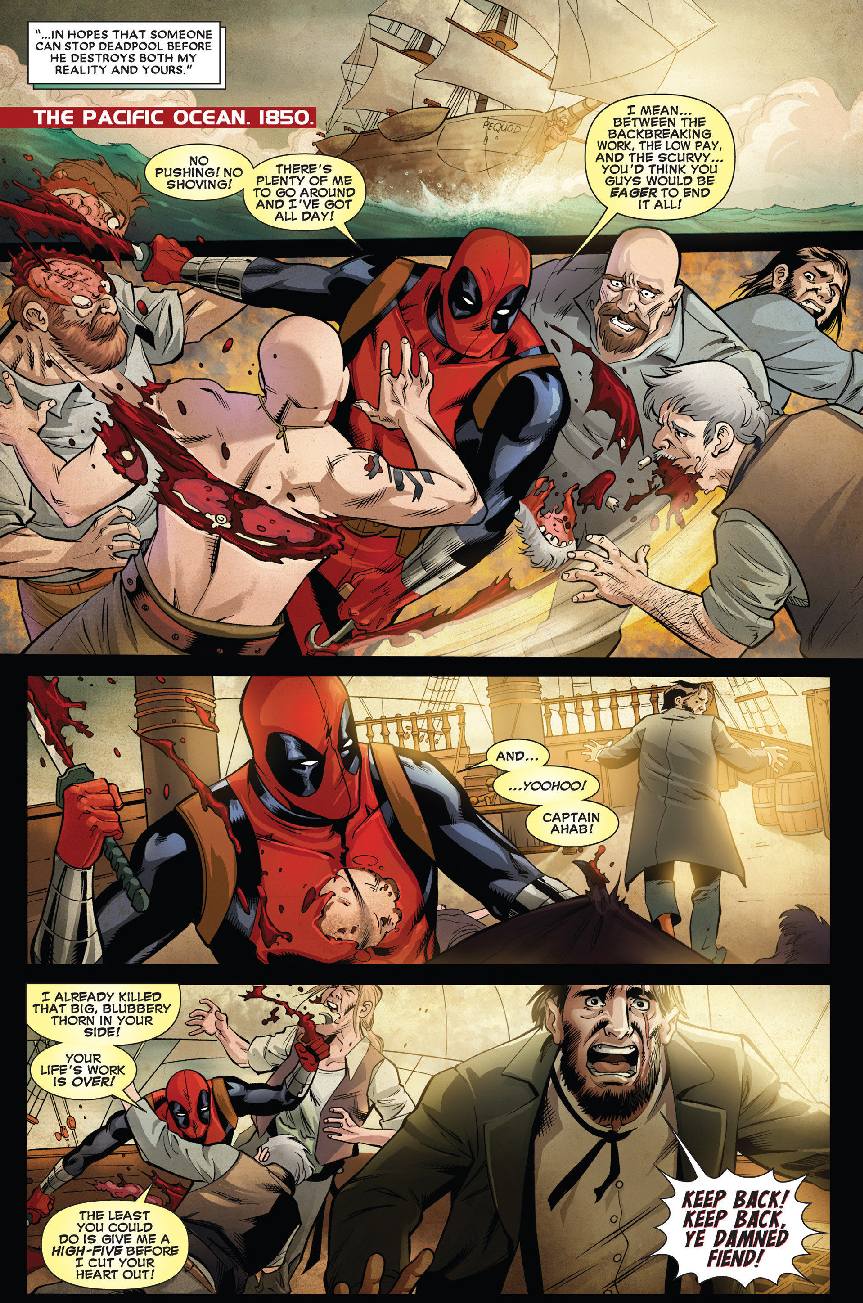 The character's popularity has seen him featured in numerous forms of other media. In the 2004 series Cable & Deadpool, he refers to his own scarred appearance as "Ryan Reynolds crossed with a Shar-Pei" (though in the comic, Reynolds' name is misspelled as "Renolds".) Reynolds himself would eventually portray the character in the X-Men film series, appearing in X-Men Origins: Wolverine (2009), Deadpool (2016), and its sequel Deadpool 2 (2018). Reynolds attributes Cable & Deadpool #2 to what got him hooked on the character and inspired him to bring the character to the movies. He is slated to continue playing the character in the Marvel Cinematic Universe.

As a fictional character, Deadpool has appeared in various adaptations, from comic books to films and television series. Each version of the work typically establishes its own continuity, and sometimes introduces parallel universes, to the point where distinct differences in the portrayal of the character can be identified.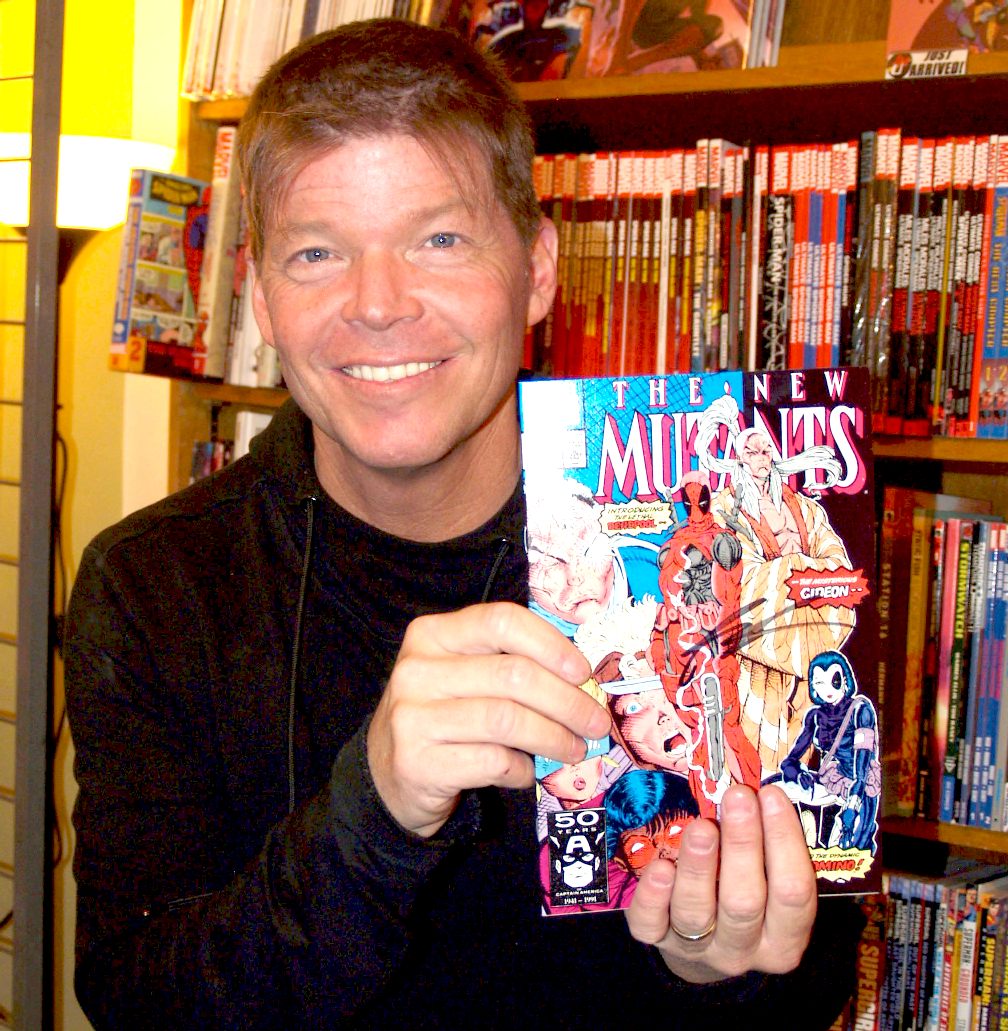 POWERS & ABILITIES

Deadpool's primary power is an accelerated healing factor, depicted by various writers at differing levels of efficiency. The speed of his healing factor depends on the severity of the wound and Deadpool's mental state. It works most efficiently when he is awake, alert, and in good spirits. Deadpool's accelerated healing factor is strong enough that he has survived complete incineration and decapitation more than once. Although his head normally has to be reunited with his body to heal a decapitation wound, he was able to regrow his head after having it pulverized by the Hulk in the graphic novel Deadpool Kills the Marvel Universe.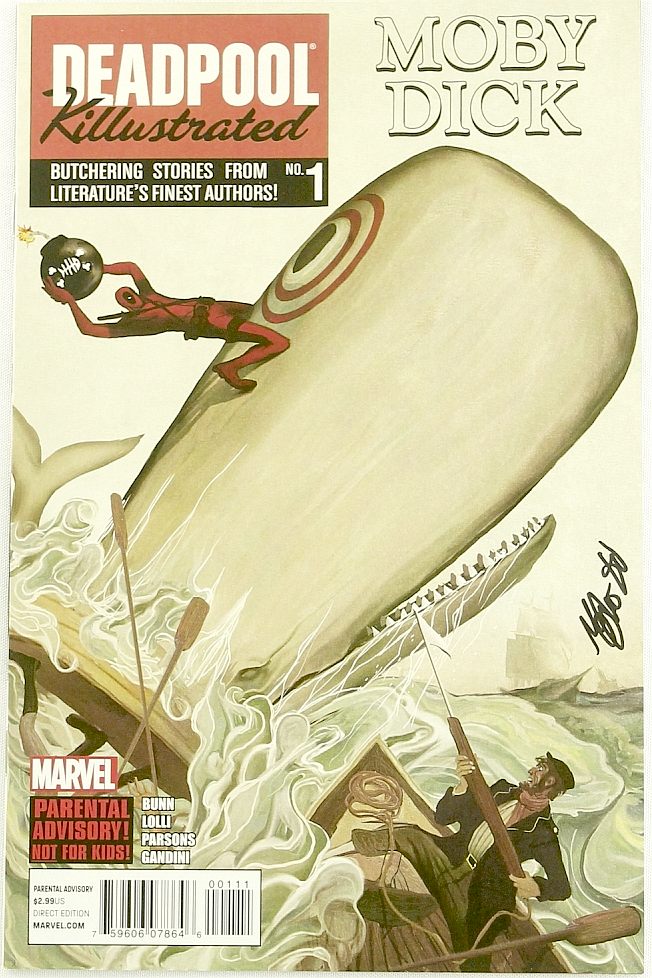 Deadpool's brain cells are similarly affected, with dying neurons being rejuvenated at a super accelerated rate. This allows Deadpool to recover from any head wounds, and it renders him nearly invulnerable to psychic and telepathic powers, although this ability is inconsistent. It has been revealed that at the time his healing ability was given to him, Deadpool suffered from some form of cancer; after the healing factor was given to him, it made his normal cells as well as his cancerous cells unable to die, giving him a heavily scarred appearance beneath his suit.

Deadpool's body is highly resistant to most drugs and toxins, due to his accelerated healing factor. For example, it is extremely difficult for him to become intoxicated. He can be affected by certain drugs, such as tranquilizers if he is exposed to a large enough dosage. Unlike Wolverine, whose wounds sometimes cause excruciating pain as they heal depending on the severity, Deadpool has some degree of pain insensitivity.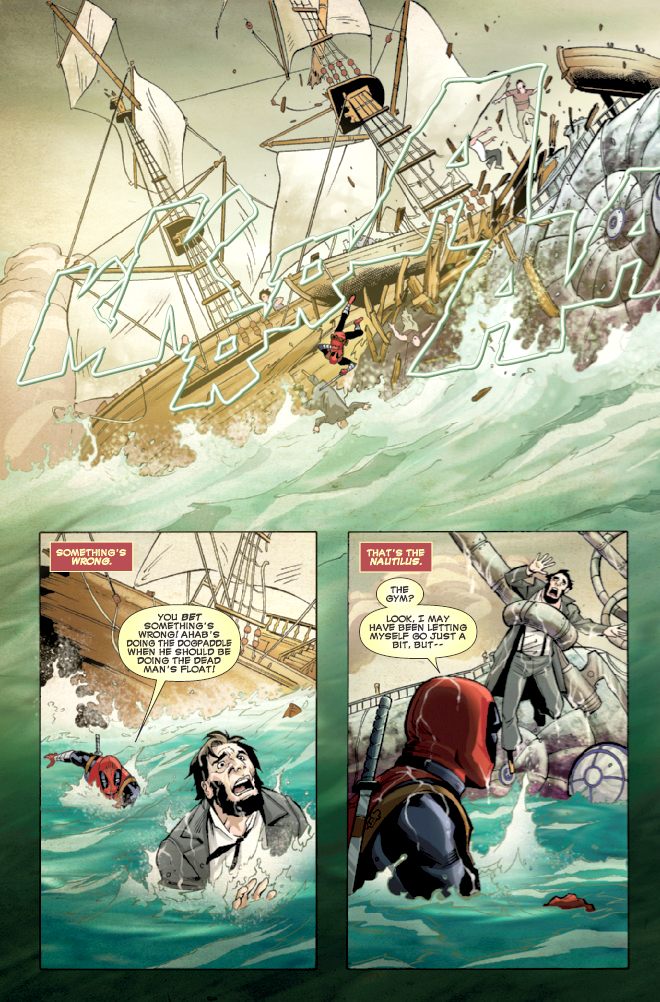 Deadpool is effectively immortal, although he has died several times. He is still alive 800 years in the future when the new X-Force encounters him. In addition, Thanos once declared that Deadpool should "consider yourself cursed ... with life!" out of jealousy over Deadpool's status as Death's love interest. His enemy T-Ray later resurrected him, under Thanos' instruction, using an artifact he had given him. Later, Deadpool was informed that Thanos had placed a curse on him, and tracked Thanos down. He revealed that the only thing keeping Wade alive was his "spell of darkest necromancy". Although Thanos removed this curse in order to kill Deadpool, he felt forced to immediately bring him back using "a fusion of necromancy and science" in order to request his aid in tracking down Mistress Death, who had gone missing.

Deadpool is a highly trained assassin and mercenary. He is adept in multiple forms of martial arts, including Savate. Deadpool is an extraordinary athlete, and an expert swordsman and marksman. He is skilled in the use of multiple weapons, including katanas, knives, grenades, and guns. His accelerated healing factor may contribute to his abilities, allowing him to perform intense exercise for extended periods of time with minimal aches and fatigue. Although in earlier years he was originally portrayed as having superhuman strength, he is no longer depicted as having this ability.

Over the years, Deadpool has owned a number of personal teleportation devices. Also, during Deadpool's first ongoing comic, he possesses a device which projected holographic disguises, allowing him to go undercover or conceal his appearance. Deadpool is multilingual, with the ability to speak fluently in German, Spanish, ASL, and Japanese, in addition to his native English.

Since Deadpool is aware that he is a fictional character, he uses this knowledge to his advantage to deal with opponents or gain knowledge to which he should not normally have access, such as reading past issues of his and others' comics. For example, Deadpool knows he has a Wikipedia article, this one, and hopes his fans keep his page updated.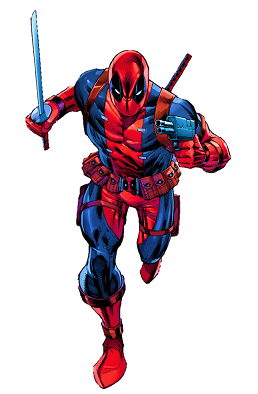 RECEPTION

Deadpool was ranked 182nd on Wizard magazine's list of the Top 200 Comic Book Characters of All Time, ranked 45th on Empire magazine's list of The 50 Greatest Comic Book Characters, and placed 31st on IGN's list of the Top 100 Comic Book Heroes. DC Rebirth has given Harley Quinn a stalker/friend named Wayne Wilkins AKA "Red Tool", who is a direct parody of Deadpool.
Moby-Dick was based on the sinking of the Essex in 1820 and another real whale that sank around 20 ships (1838), called Mocha-Dick.
Marvel illustrated Moby-Dick in a series, then gave Deadpool a shot. Even Disney comics had a go - each appealing to a different age group, but all based on the Herman Melville classic. Kulo-Luna is also based on the fact that a large enough whale can sink a small ship, given the impetus. The difference is, that Kulo-Luna is set in the future, and is an original tale based around climate and plastic issues.
Please use our A-Z INDEX to navigate this site