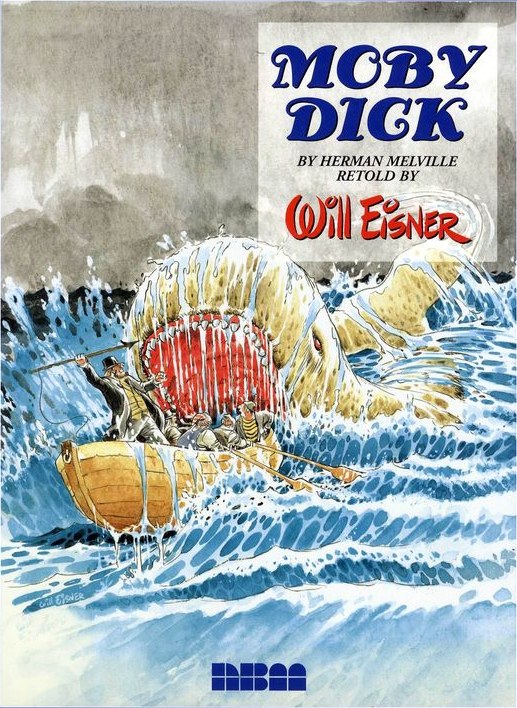 COVER ART - The front cover of Will Eisner's illustrated re-telling of Herman Melville's Moby-Dick.
William Erwin Eisner (March 6, 1917 – January 3, 2005) was an American cartoonist, writer, and entrepreneur. He was one of the earliest cartoonists to work in the American comic book industry, and his series The Spirit (1940–1952) was noted for its experiments in content and form. In 1978, he popularized the term "graphic novel" with the publication of his book A Contract with God. He was an early contributor to formal comics studies with his book Comics and Sequential Art (1985). The Eisner Award was named in his honor, and is given to recognize achievements each year in the comics medium; he was one of the three inaugural inductees to the Will Eisner Comic Book Hall of Fame.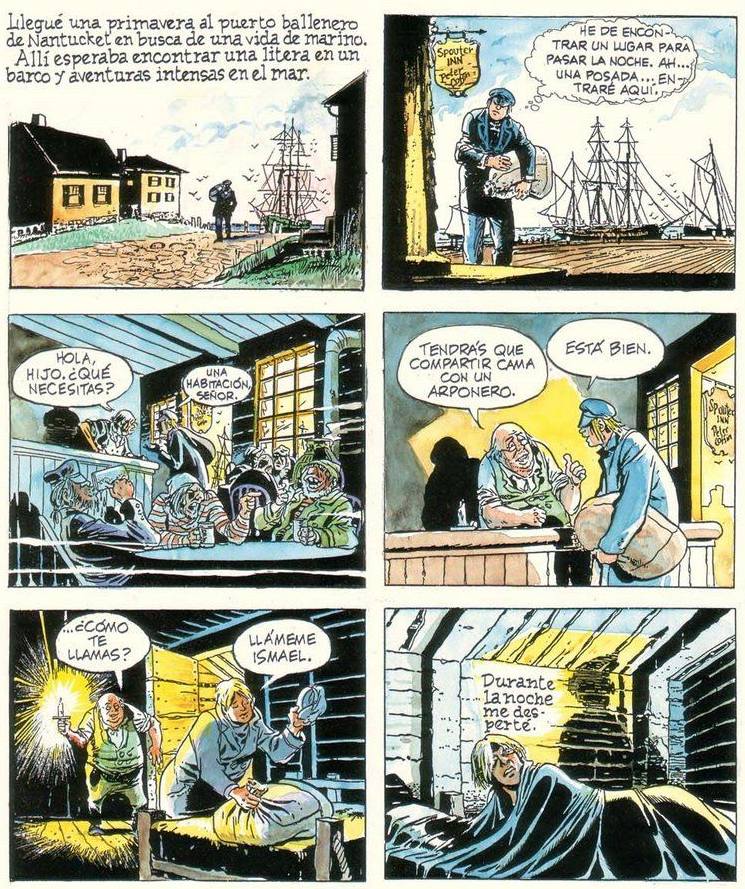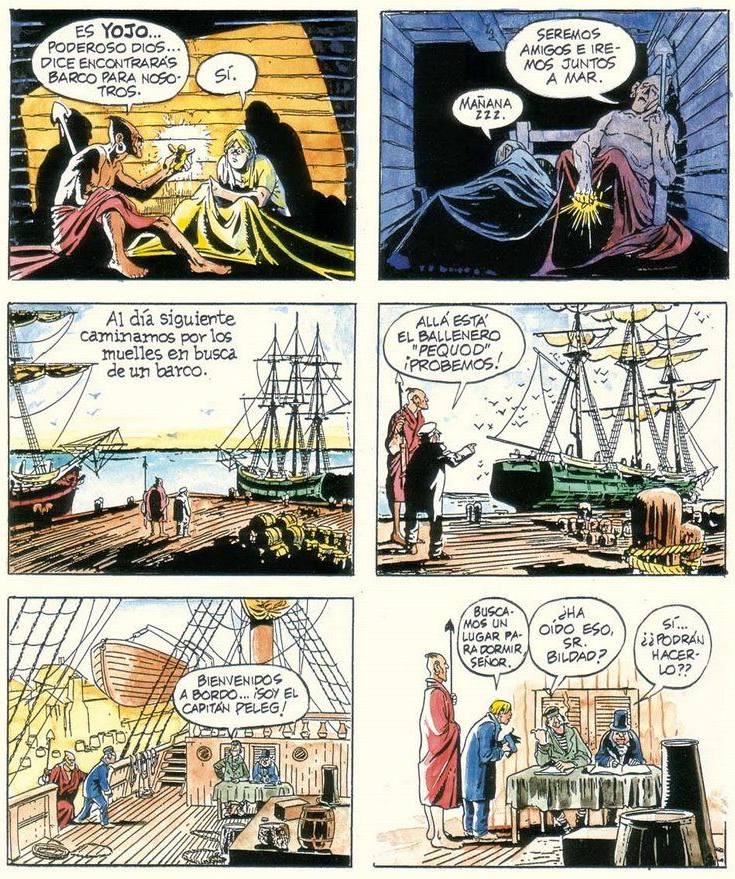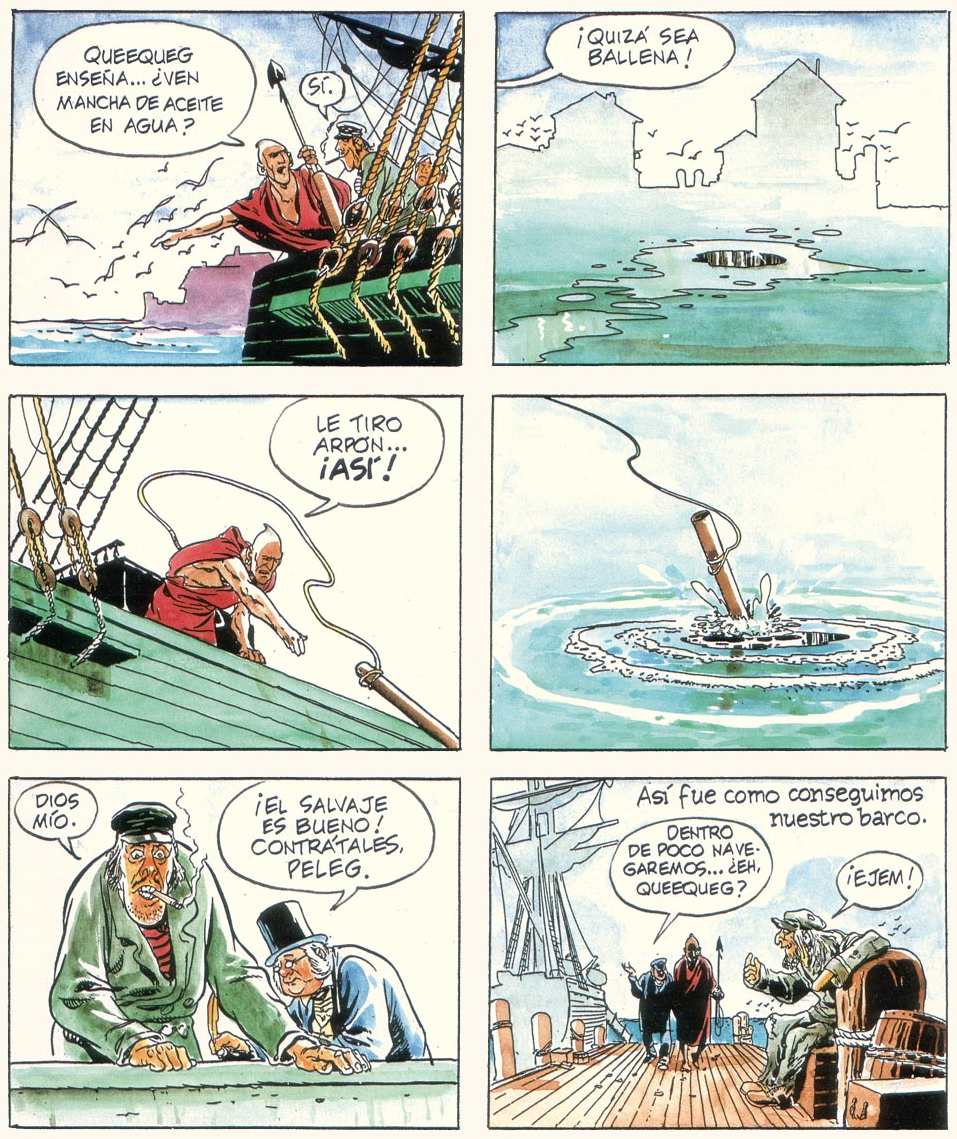 We are mostly interested in Will's work because of his adaptation of Herman Melville's classic tale of a giant albino whale called Moby Dick, that was translated into several languages.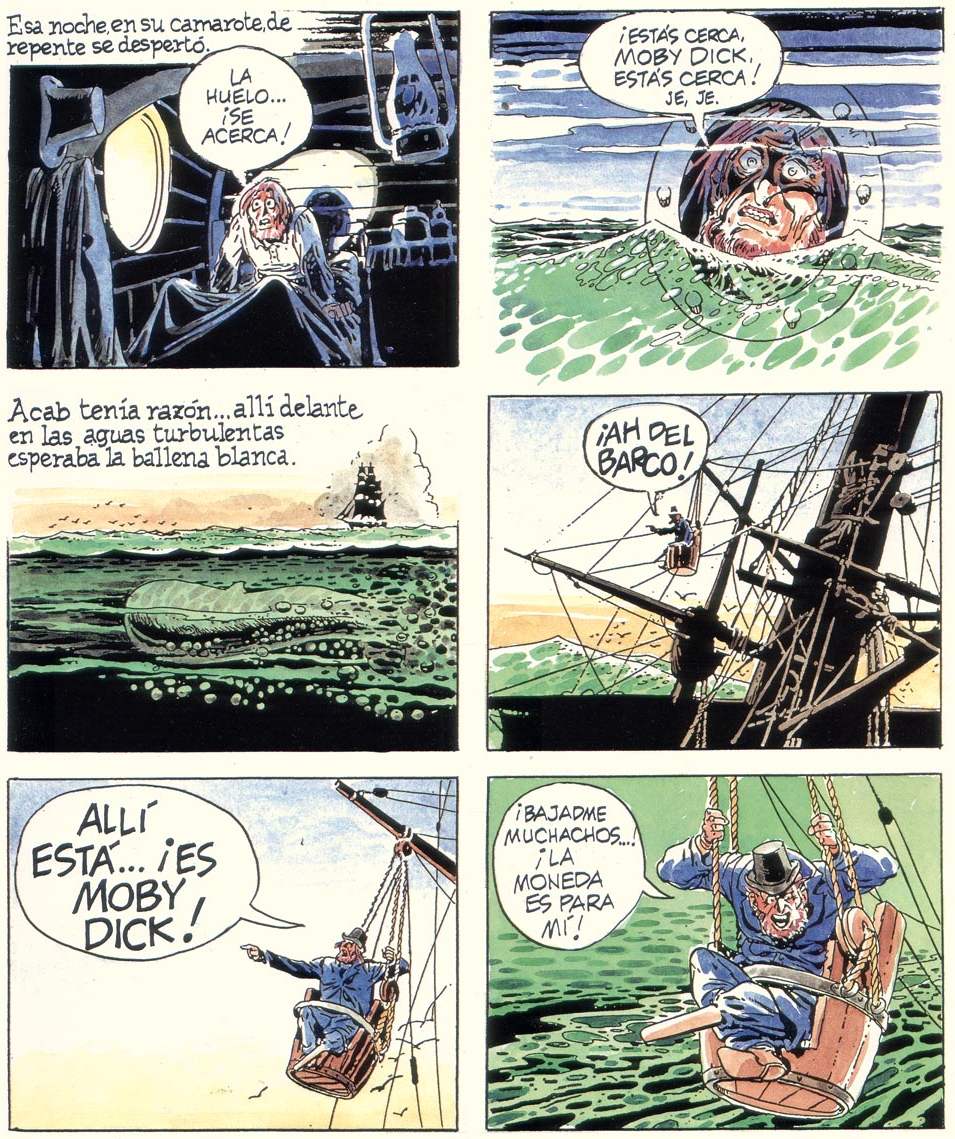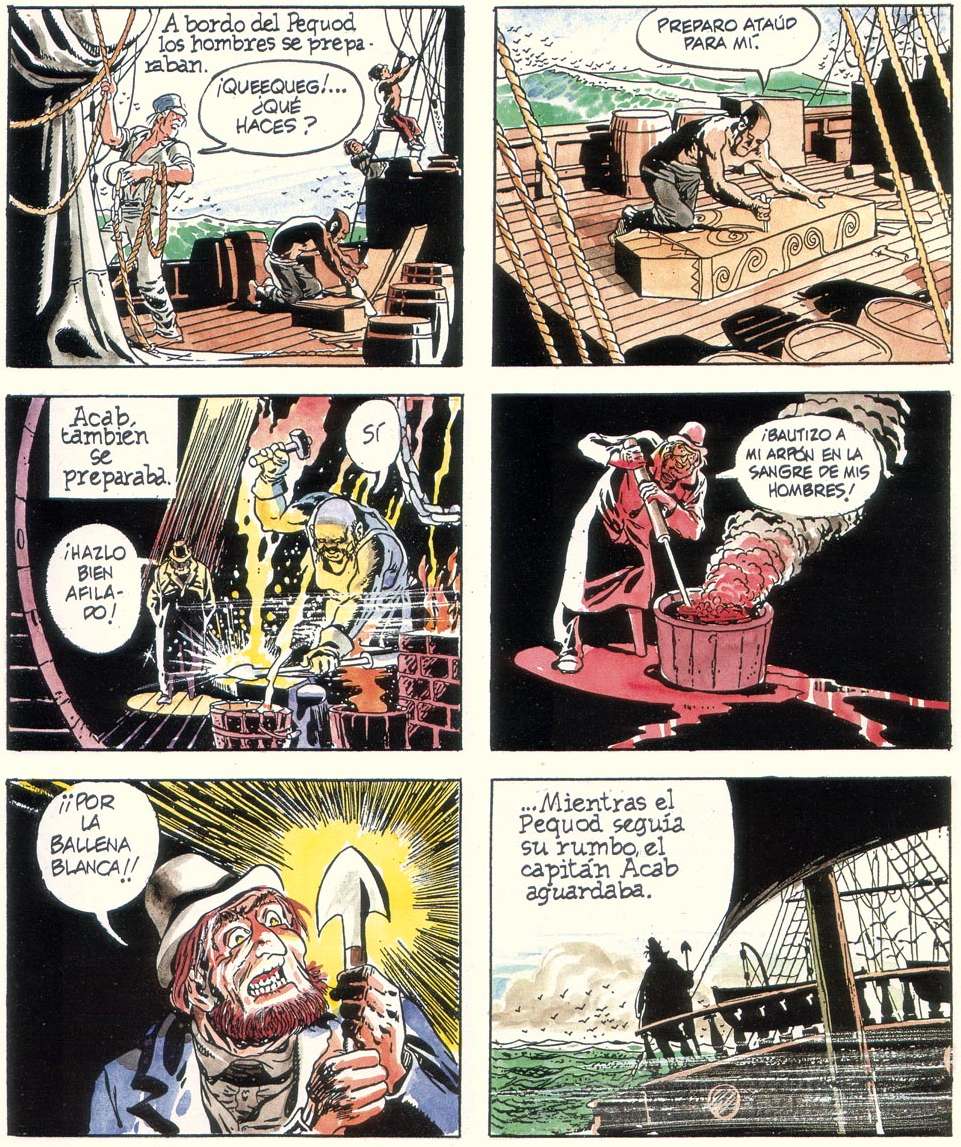 WILL'S CAREER
In the late 1970s, Eisner turned his attention to longer storytelling forms. A Contract with God, and Other Tenement Stories (Baronet Books, October 1978) is an early example of an American graphic novel, combining thematically linked short stories into a single square-bound volume. Eisner continued with a string of graphic novels that tell the history of New York's immigrant communities, particularly Jews, including The Building, A Life Force, Dropsie Avenue and To the Heart of the Storm. He continued producing new books into his seventies and eighties, at an average rate of nearly one a year. Each of these books was done twice — once as a rough version to show editor Dave Schreiner, then as a second, finished version incorporating suggested changes.

Some of his last work was the retelling in sequential art of novels and myths, including Moby-Dick. In 2002, at the age of 85, he published Sundiata, based on the part-historical, part-mythical stories of a West African king, "The Lion of Mali". Fagin the Jew is an account of the life of Dickens' character Fagin, in which Eisner tries to get past the stereotyped portrait of Fagin in Oliver Twist.

His last graphic novel, The Plot: The Secret Story of The Protocols of the Elders of Zion, an account of the making, and refutation, of the anti-semitic hoax The Protocols of the Learned Elders of Zion, was completed shortly before his death and published in 2005.

In 2008, Will Eisner's The Spirit: A Pop-Up Graphic Novel was published, with Bruce Foster as paper engineer.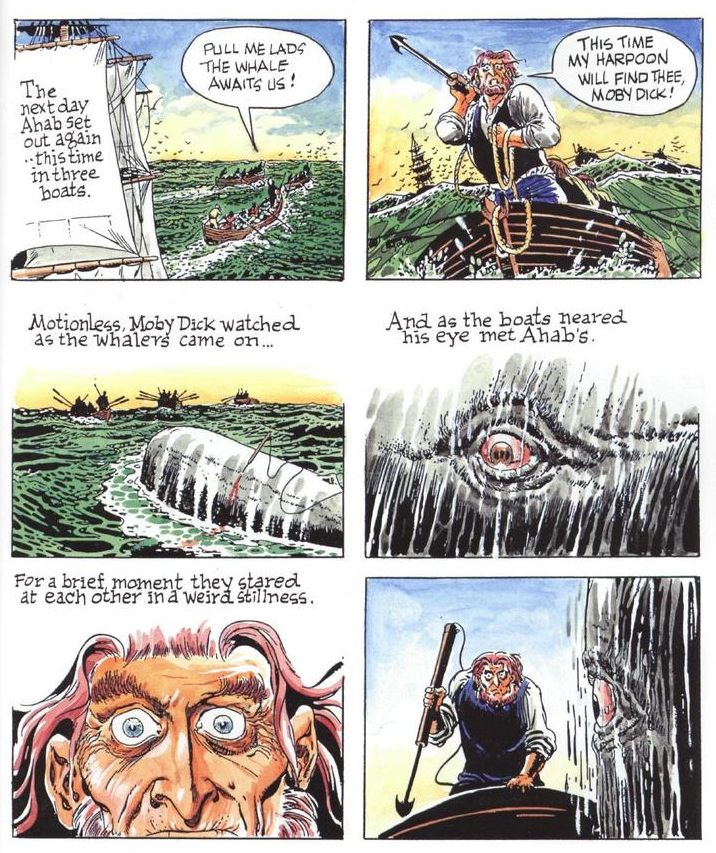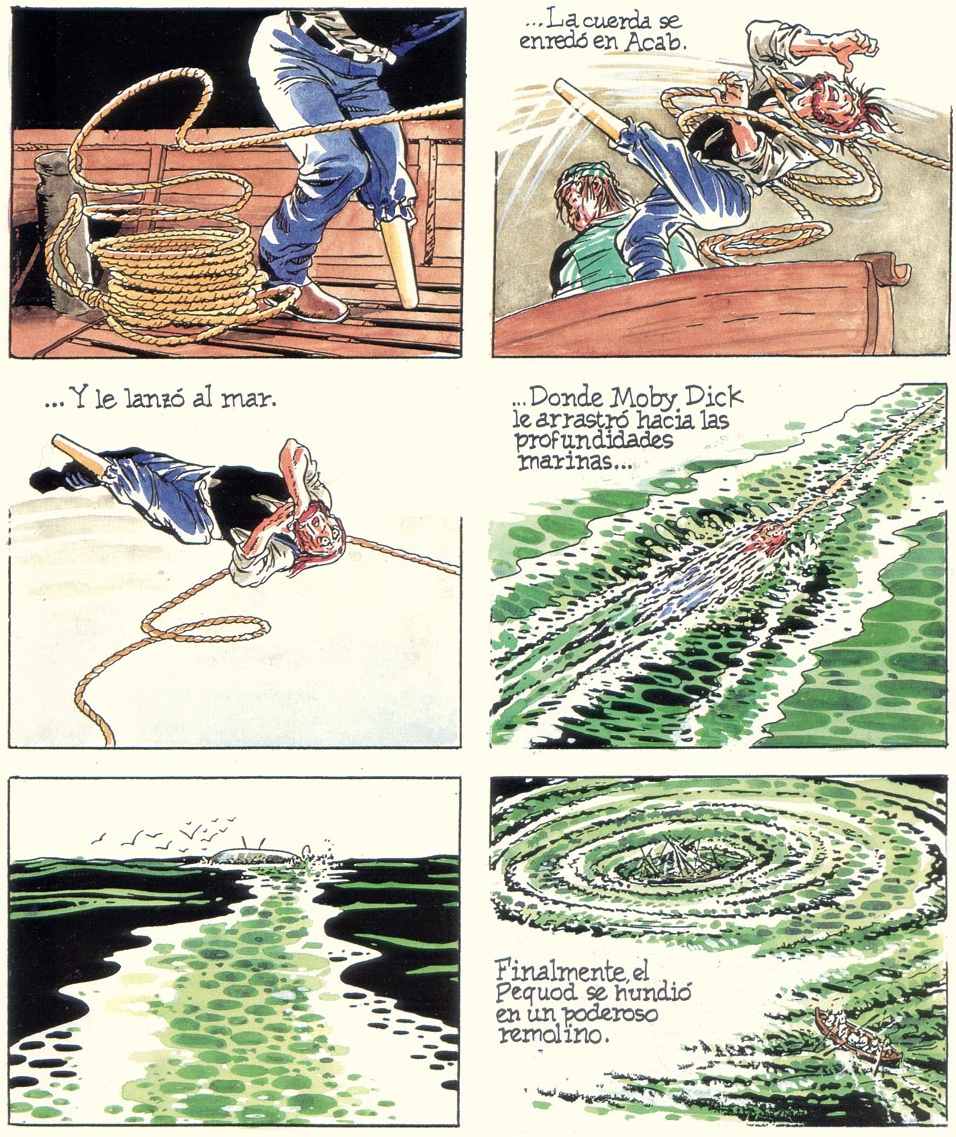 TEACHING
In his later years especially, Eisner was a frequent lecturer about the craft and uses of sequential art. He taught at the School of Visual Arts in New York City, where he published Will Eisner's Gallery, a collection of work by his students and wrote two books based on these lectures, Comics and Sequential Art and Graphic Storytelling and Visual Narrative, which are widely used by students of cartooning. In 2002, Eisner participated in the Will Eisner Symposium of the 2002 University of Florida Conference on Comics and Graphic Novels.

AWARDS

Eisner has been recognized for his work with the National Cartoonists Society Comic Book Award for 1967, 1968, 1969, 1987 and 1988, as well as its Story Comic Book Award in 1979, and its Reuben Award in 1998.

He was inducted into the Academy of Comic Book Arts Hall of Fame in 1971, and the Jack Kirby Hall of Fame in 1987. The following year, the Will Eisner Comic Industry Awards were established in his honor.

in 1975, he received the second Grand Prix de la ville d'Angoulême.

With Jack Kirby, Robert Crumb, Harvey Kurtzman, Gary Panter, and Chris Ware, Eisner was among the artists honored in the exhibition "Masters of American Comics" at the Jewish Museum in New York City, from September 16, 2006 to January 28, 2007.

On the 94th anniversary of Eisner's birth, in 2011, Google used an image featuring the Spirit as its logo.

In 2015, Eisner was posthumously elected to the Society of Illustrators Hall of Fame.

Comics by Will Eisner are archived in the James Branch Cabell Library of Virginia Commonwealth University. VCU's James Branch Cabell Library has served as the repository for the Will Eisner Comic Industry Awards since 2005.
Each year following Comic-Con, nominated and award-winning titles are donated to the library's Special Collections and Archives and made available to researchers and visitors. Approximately 1,000 comic books, graphic novels, archival editions, scholarly titles, and journals are included in the VCU library's expansive Comic Arts Collection.

In honor of Eisner's centennial in 2017, Denis Kitchen and John Lind co-curated the largest retrospective exhibitions of Will Eisner's original artwork, shown simultaneously at The Society of Illustrators in New York City and Le Musée de la Bande Dessinée in Angoulême, France. Both exhibitions were titled Will Eisner Centennial Celebration and collectively over 400 original pieces were included. A catalogue of the same name was released by Dark Horse Books and nominated for multiple Eisner Awards in 2018

Marvel illustrated Moby-Dick in a series, then gave Deadpool a shot. Even Disney comics had a go - each appealing to a different age group, but all based on the Herman Melville classic. Kulo-Luna is also based on the fact that a large enough whale can sink a small ship, given the impetus. The difference is, that Kulo-Luna is set in the future, and is an original tale based around climate and plastic issues.
Moby-Dick was based on the sinking of the Essex in 1820 and another real whale that sank around 20 ships (1838), called Mocha-Dick.
Please use our A-Z INDEX to navigate this site